Caring for an aging parent is a common challenge for Baby Boomers, and now even GenX'ers and Millennials.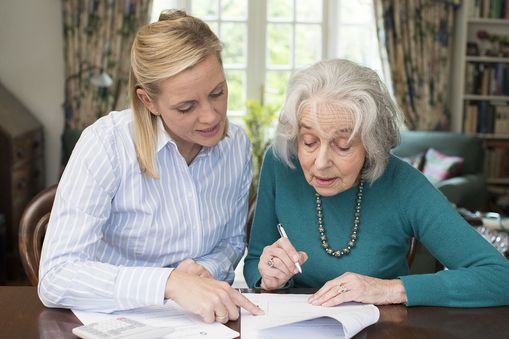 And, stepping in to help manage your parents' finances, without eroding their sense of independence and privacy, can be tricky.
Many aging parents are reluctant to ask their children for help with their finances. It means a loss of control, a trading of places from them taking care of you to you taking care of them, and can signify a loss of power that feels too frightening for your parents.
Nevertheless, you may be wondering what you can do when your parents start needing help.
A pile of unpaid bills, threatening calls from creditors or repeated instances of credit card fraud or financial scams are good indicators that your parent needs help managing his or her finances.
Financial caregiving is easiest when you already have a plan in place. You may be in a good position to make educated decisions about their finances, but without the proper information and legal authority, your options are limited.
If your parent needs help, the first step is to make sure you know what they have, where it is, and how you can access it, if necessary. 
Next, you want to make sure you know what bills are due and when, and that their bills are being paid on time.
Unless you have the legal authority to manage your parents' finances, you will need their help in getting access to their account and setting up auto-bill pay for them.
When you are ready, the first place to start is with a heart to heart conversation about whether your parent is ready for help and what that help could look like.
Then, if your parent is ready to help, you can ask him or her (or them) to legally designate you as either the Trustee of their trust or financial power of attorney holder, if they do not have a trust. Also, be sure you are designated as their personal representative through their medical power of attorney, so you can make important care-giving decisions for your parent(s) if he, she or they cannot.
If your parent needs or wants help with finances, he or she may also need help with health care or the management of their estate. You can address these issues by working with a Family Business Lawyer™ who will help you develop an estate plan that considers your parent's best interests. As your Family Business Lawyer™, we work with your family to ensure you have the authority required to help your parent with his or her finances.
This is also an opportune time for you to consider your own long-term financial planning. If you are ready to take a step toward financial peace of mind, begin by scheduling a Family Wealth Planning Session. Before the session, we'll send you a Family Wealth Inventory and Assessment that will get you thinking about what you own, what you want to leave behind, and how you want your finances to be managed if you need help. As your Family Business Lawyer™, we'll help you establish a plan for your finances to ensure you have a plan in place when you need it down the road.
This article is a service of Sky Unlimited Legal Advisory PC, Family Business Lawyer™.  We don't just draft documents, we ensure you make informed and empowered decisions about life and death, for yourself and the people you love.  That's why we offer a Family Wealth Planning Session™, during which you will get more financially organized than you've ever been before, and make all the best choices for the people you love.  You can begin by calling our office at (650) 761-0992 today or book online to schedule a Family Wealth Planning Session and mention this article to find out how to get this $750 session at no charge.